Saving Money, Energy & Resources
Solar Energy Solutions
Newcastle & Hunter Valley
If you're looking at options to save money and lower your energy costs than we have the solution for you.
Lumapower prides itself on offering affordable and cost-effective energy efficiency solutions to homeowners and commercial owners alike.
Our solar systems range in size from 1.56kW to whatever your roof can carry. We use Tier 1 level components, providing you with the assurance of a quality product and installation.
Highly recommend Lumapower and Brett. Honest Advice, not trying to sell the biggest system…. but one suited to the customer's needs. Quality installation and quality panels with micro-inverters.
Shirley and I are very happy for Lumapower to share our total satisfaction on the recent purchase of our new Fronius Galvo inverter wich was supplied by them. We are also very happy to recommend Brett Mills and his team at Lumapower to satisfy all your solar needs.
Had my solar in for a year now and I can't remember the last time I paid an electricity bill.  Lumapower were great to deal with from the start. There was an issue early on with the meter box outside. I called and someone was there within 24 hours to rectify it.
What's the process from solar enquiry to quote to installation?
Getting a quote is simple and easy. Our honest, no pressure approach will leave you feel at ease knowing can can take your time with this important investment into your home.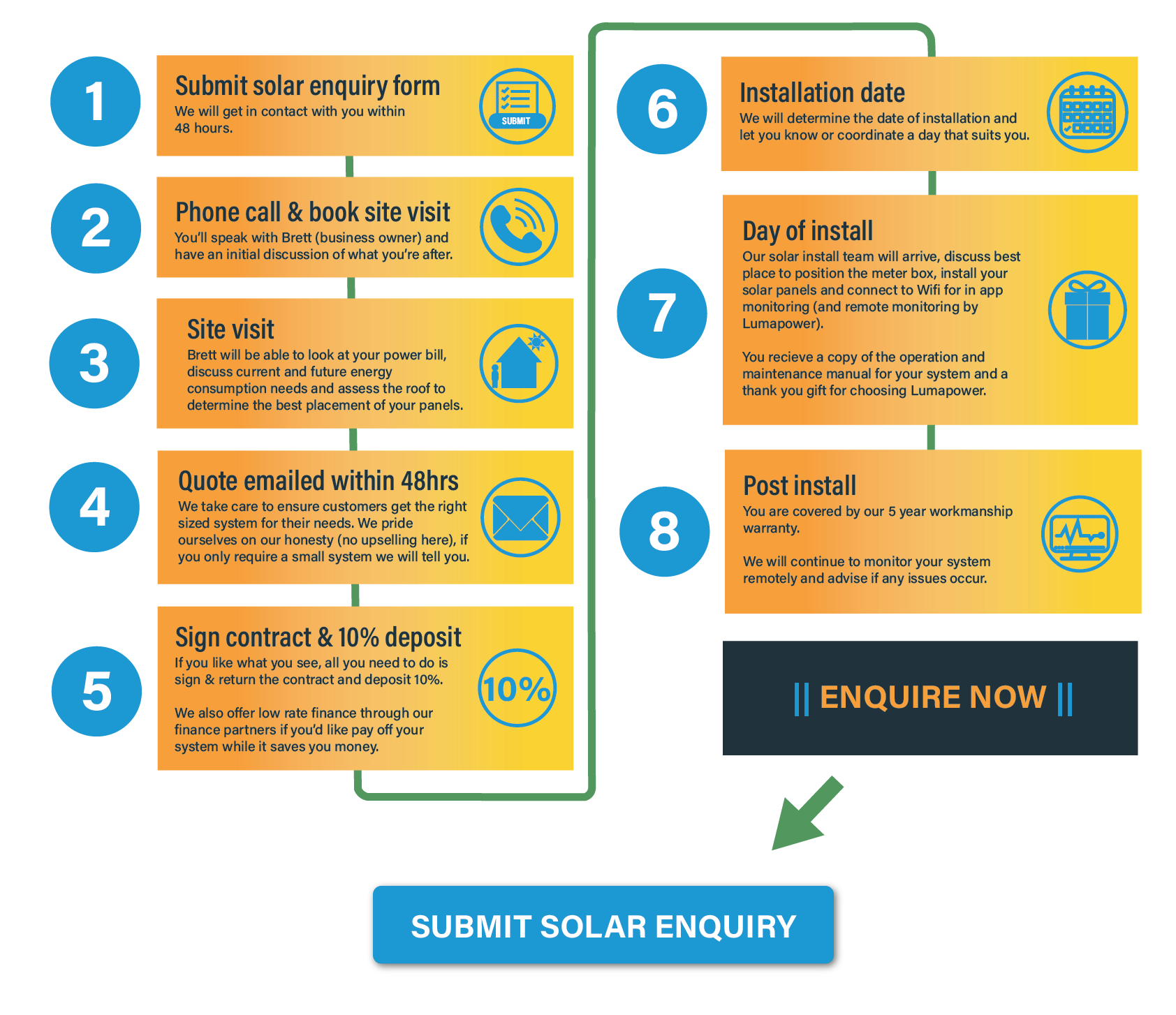 We want to give you the best advice possible, and we will assist you in choosing the correct size by offering professional advice, with an emphasis on saving you money.
From your initial contact, Lumapower will take you through a step by step process. We can assess your energy bills to ascertain the best possible fit for you, and measure your roof during the home inspection/quotation process. We will then provide you with a quotation for a system that suits your needs, and if you'd like to go ahead with our proposal we take care of all the paperwork including liaising with your energy provider.
Payment is made on completion of our installation or we also have a finance partner for those wanting to pay off their solar incrementally. We also have service options available for future peace of mind. If you've got a project that you would like to see powered by renewable energy, then contact us today.
Contact us today and get started on your solar journey
Residential solar installation

Maintenance and servicing

Live/real time reporting of system function

Transportable solar systems (ideal for commercial/mining projects)

Solar Street lighting
Solar security lighting

Installation of car charging systems

Solar-powered signage

Solar operated boom gates

Custom made systems